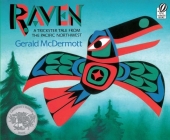 Two of my very dearest things, ravens and books, and a story set in the Pacific Northwest… my home. This is a book about a raven…what better way to introduce children to your love of ravens and crows than reading a good story about them? Here is the official book description,
Raven, the trickster, wants to give people the gift of light. But can he find out where Sky Chief keeps it? And if he does, will he be able to escape without being discovered? His dream seems impossible, but if anyone can find a way to bring light to the world, wise and clever Raven can!
Click on the book above to purchase the book or to read more about it.